HUNTER SE is the Ackermann front steering drive-by-wire chassis designed for the challenging road conditions and speed requirements of urban roads. It features an ultra-compact design with a cutting-edge speed of 4.8m/s, better climbing capability, and overcoming obstacles. Based on modular design and standard CAN interface, users can easily install and expand a series of autonomous system components to realize autonomous driving and commercial robot applications such as parcel delivery, unmanned logistics, unmanned meal delivery, scenic spot patrolling, etc.

Upgraded Power System for High-speed Driving
Inherited the simplified design and steel body of the HUNTER Series, the HUNTER SE, with an upgraded power system and in-wheel hub motor technology, can provide a high driving speed of up to 4.8m/s. Taking the advantage of front steering similar to motor vehicles, the HUNTER SE can precisely control the motion while minimizing the wear and tear of the tier, suitable for long-time challenging indoor and outdoor operations.
Modular Shock Absorption Systems Portable Replacement Battery
The HUNTER SE has a combination of modular shock absorption systems including a swing arm at the front wheel and independent suspension at the back wheel, which enables it to easily traverse bumpers on city roads and climb ramps in industrial parks. With the onboard battery management system and the quick-release battery replacement design, your robot can enjoy non-stop operation of achieving high efficiency in different commercial autonomous driving applications.
Applications
Designed for the challenging road conditions and speed requirements of the urban roads, the HUNTER SE is dedicated to the development and commercial implementation of robotics and autonomous driving applications, including autonomous parcel delivery, unmanned logistics, unmanned food delivery, unmanned patrolling, etc.
Expandable Load to Support Rapid Secondary Development
HUNTER SE can easily integrate third-party sensors, IMU, and more in need to quickly build the robotic applications through the CAN protocol, as well as easy-to-access power from HUNTER SE. Also, we provide rich open-source SDK and ROS_PACKAGE.
| | | | |
| --- | --- | --- | --- |
| Dimensions (L x W x H) | 820 x 640 x 310mm | External Power Supply | 24V/15A |
| Height | 123mm | Power Drive | Rear wheel hub motor driven |
| Weight | 42kg | Motor | 350W*2 (Brushless DC Motor) |
| Maximum Payload | 50kg | Operating Temperature | -20°C~60°C |
| Maximum Speed | 17.8km/h | Communication Interface | Standard CAN |
| Climbing Ability | 30° | Protection Level | IP22 |
| Minimum Turning Radius | 1.5m | Battery | 24V/30A Lithium Battery |
| Obstacle Surmounting Capacity | 50mm | Charger | AC220V Independent Charger |
| Battery Running Time | 2~3h | Charging Time | 3h |
| Running Mileage | >30km | Braking Method | 2m |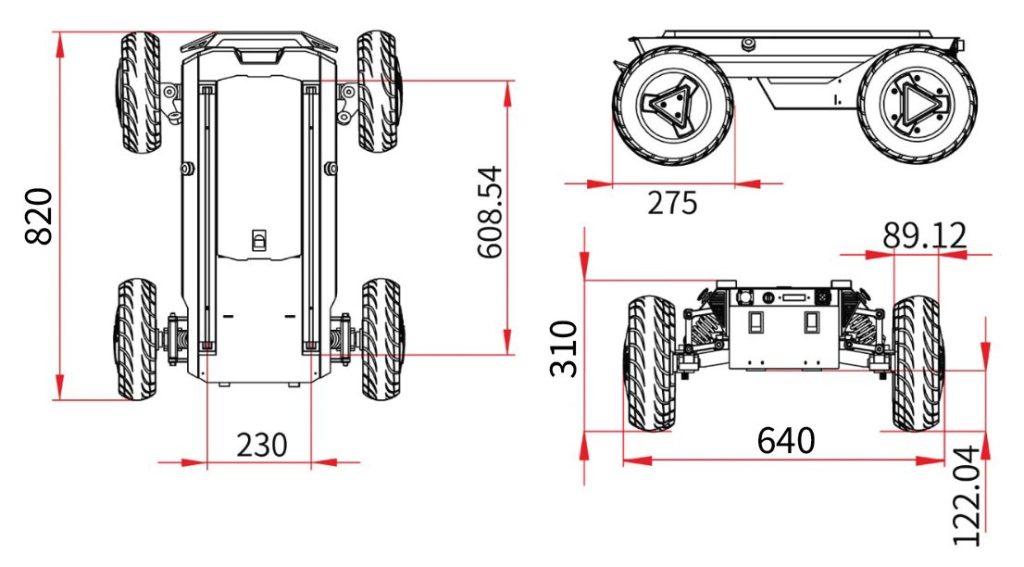 実機デモ体験会
AgileX 他製品
AgileX ソリューション製品
AgileX社 公式サイト
https://www.agilex.ai/?lang=en-us
<関連情報>
■ AMR/UGV Developer Conference
2023年7月に名古屋国際会議場にて開催されました、AMR/UGV Developer Conference 2023につきまして報告ページを公開しております。
一部のユーザ講演につきまして、動画をYouTubeにて公開しておりますので、AgileX製品ご活用の参考になれば幸いです。

通販ページはこちら

お問い合わせ先
TechShare株式会社 営業部
AgileX UGV/AGV担当チーム
〒135-0016 東京都江東区東陽5-28-6 TSビル
TEL 03-5683-7293
Email:agilex@techshare.co.jp